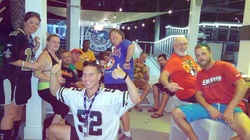 Hares: Menage A Neuf, Bottom of the Ninth
BeerMeister: 4" Spike

So there we were, sweating in the hot summer sun like a bunch of nuns at a cucumber stall in the farmer's market. A few of us had even decided to wear clothes having to do with the NFL theme. Our group this day was made up of a motley crew of hashers, from visitors to virgins to hashers returning from far-away kennels in Europe. Once all had gathered (after some confused effort in using Google Maps took place) and caught up a bit, haberdash was sold, and Missed Her Bullseye disappeared and missed the hash as well. An elaborate chalk talk included the very unusual presence of a leap-frog amongst some groans and squeals of delight. And we were off!

Almost immediately, the unnamed Treasure Coast visitor and virgin took off at the head of the pack. No idea where they went, because I never saw them again on-trail after the first block or at any beer checks. Soooo I hope they had a nice vacay....... um, on-on? Shiggy Shave-Her, Mu-Sick, Just John (who was named this night), and myself led the pack around Roosevelt to Flagler and then around some zigs and zags. Shiggy went off trail somewhere and Just John and I suddenly found ourselves at the back of the pack after a large amount of short-cutting by the rest of the pack took place.....naughty naughty. In my angst, I stole a child's tiny rainbow hula hoop off the sidewalk and it sits in my car even now. Taught that crotchfruit to put its toys away. We finally got over to our first beer check after at least a mile and a half or so which is a long time without alcohol for us island miscreants. With our thirsts temporarily abated and the harriettes' bras full of ice, we pushed on, stealing shopping carts and running from a swarm of bees that XSNRG decided to stir up outside of a trailer park along the way.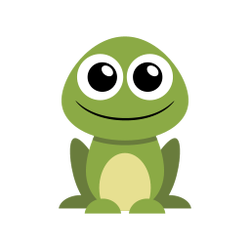 We leapfrogged around town collecting hash treasure in our new shopping cart and swapping clothes as indicated at the checks. Something bad must've almost happened to the hares when they got back around to Roosevelt because suddenly we were presented with a metric crap-ton of boob and package checks on the busiest road on the island. As Mu-Sick was alone in front of us, I have no idea how he accomplished these checks, but I know my own tits were out while running down the boulevard for a good thirty minutes. Judging by the catcalls, no one was sad. After a shot check and nearly 5 miles of trail, we finally made it on-home. Once the rest of the pack caught up, our glorious visitors Boobilocks and Locked Up Abroad from St Pete/Naked Pirate/Bay to Beaches H3 bought us all McDonalds (I mean, fries and nuggets are pretty much orange food). XSNRG brought us a huge dead stinking iguana which he plopped into circle when no one was expecting it. After much eating (mcd's) and vomiting (iguana), a very brief circle was held so we could get to the on-after which included a pool that closed at 10pm (but much to our chagrin had really closed already due to lightning, so all our rushing was for naught). Accusations were briefer than 4" Spike's underwear, he being one of the accused for being at Wendy's getting food instead of at a beer check on time. And then.....a NAMING! Just John's skinny butt was formally folded and inserted directly into a cooler filled with cold water and a little ice (it was hot). Throughout the Inquisition we discovered a few unknown facts and many long boring stories about Just John, including the fact that he is not on the Ashley Madison list. The most amusing two or three stories led to the voting for his name:
Get the F*ck Off (GTFO).
Runners up for his name were: Grounded, Ice Bawls, Inverted Packer, Only in College, and No Fly Lush. For On-After, we moved to the pool at
the Gates
hotel where we ate delicious food from
the Blind Pig
and Shiggy inserted his balls into various pictures when he thought no one was looking.
On-On!
-Dead Travelin Fister