I'm still recovering from this one.

That's right. Four days later, and I may still be drunk. This hash trash will likely be as much of a cluster as the hash itself was.

Anyhow...... there we were. Our previously safe and clean southernmost harbor was invaded by the dirty ship containing the Jolly Roger H3 and friends. As it issued forth its unclean emissions, challenges were shouted far and wide across phones and internet to the Key West H3 and we reported to Mallory Square for battle. Some of us were slightly tardy/'tarded because of an apparent scout party or two landing the night before from Tampa. Speaking of which, I'm still not sure what happened that night, but some of us may or may not have woken up with titty sprinkles on our faces. I know I personally was sore in all the right places from dancing for hours at the Green Parrot. That's all, I swear.

Back to the story......the hares (Dead Travelin Fister, 4" Spike, and Menage A Neuf) showed up finally after fighting their way through some shitty festival traffic with roughly 20 cases of beer in two huge rented coolers. There was much rejoicing and haberdashery sales and trading. Finally circle started and the hares were blessed.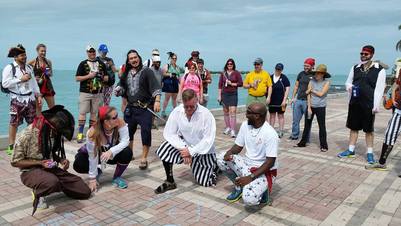 And we were off! Right away, the hares realized they were way too hungover for this shit. As we sprint- walked away from the pack, freeballing trail the whole time, we discussed the meaning of life and pirates and how many 369 degree checks would slow down the pack enough that we would not immediately get debriefed. Thru parking lots and busy streets, we soldiered on, shouting at innocent passersby and then finally and sweatily meeting up with our Beermeister HNIC at the park on Poorhouse Lane. There we awaited the pack's arrival. 4" Spike and Menage A Neuf decided to be swinger pirates in true hasher fashion and jumped on the playground swings. As the pack arrived, some bitching ensued due to the length of trail before a beer check, but I still DGAF, you pansies. It was one mile.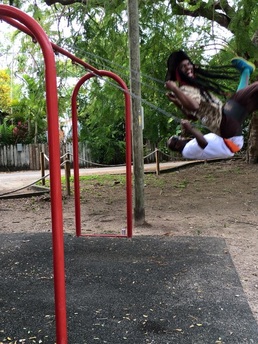 We were approached by some muggles while in the park and may have recruited some new virgins, but it is yet to be seen. As the pack straggled in, the hares took off lazily again, this time heading past the graveyard thru Old Town and to the beach at Salute's. As we ran on, we ran across a long-dead and baked iguana corpse, which I obviously marked with a true trail mark. Additionally, after multiple package and tit checks at every hash, we decided to spice things up a bit and have some leapfrog and imaginary sword fight checks as well. It is important to mention we left two of these directly in front of Salute's on the Beach much to the diners' amusement. The next beer check was just past that so that we could all enjoy the sight of the rest of the pack acting like a bunch of idiots in a public venue. The crowds roared their approval. And then I saw it. The dead iguana was now in attendance at the end of a long dog leash, pulled by none other than XSNRG. A dark sense of foreboding briefly clouded my vision, but I figured what the hell and took off again with the other hares to continue towards the Southernmost Point Buoy for the requested photo op. As we made it to the buoy, the kindness of about fifty tourists allowed us to crowd up and around it for a photo. I'm sure we are all the stars of several chinese tourists' vacation photos.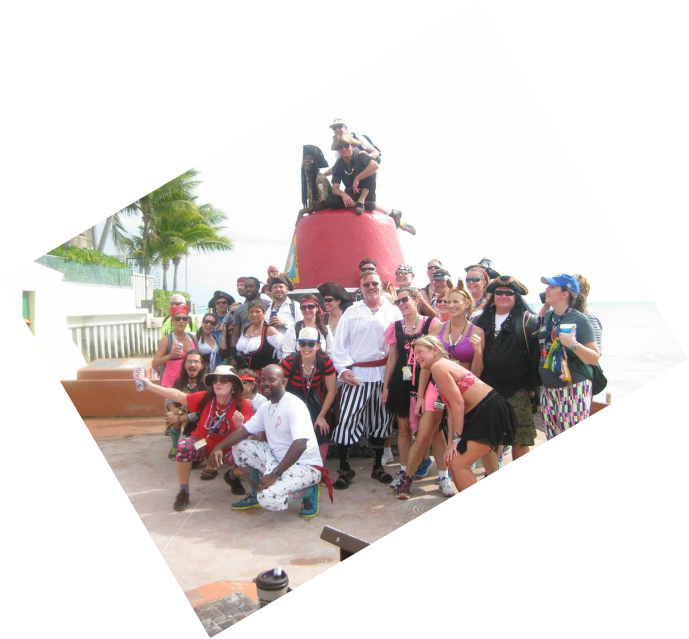 And then, the trouble started.
As I ran ahead of the pack, comfortably close enough to hear their ramblings and songs, I suddenly heard the shrill screams of a young female tourist floating sweetly through the air from the back of a trolley. Since XSNRG was almost directly behind me, I immediately knew what was happening. "IS THAT AN IGUANA?!!!", she shrieked, barely pausing for air. "IS IT ALIVE?" XSNRG replied with some kind of sarcastic retort and there was a minor back and forth. And then it happened, the most glorious response I have ever heard given to a muggle mid-trail from one of our Jolly Roger visitors.
"SHUT UP YOU C!NT, DON'T YOU KNOW IT'S DEAD IGUANA DAY!"
As the pack howled with laughter and I almost tripped over the curb in my mirth, I thought to myself, "Self. This is when the aliens show up." And so I picked up the pace, leading the pack On-In behind the bank on Simonton Street. I proved to have some powerful ESPN as we circled up, since the aliens showed up withing five minutes of our arrival and the dulcet tones of Kumbaya were offered up immediately. Luckily HNIC took the reins and spoke with the officer. The conversation went something like this.
HNIC: Sorry officer, we'll only be here briefly to meet up and then start a pub crawl.
Alien: Sir, that's not why I'm here. We were called with reports of a live iguana on a leash being dragged by one of the members of your group.
HNIC: Oh. Well actually--
Alien: Even though iguanas aren't protected, you need to release the iguana immediately or someone is going to jail.
HNIC: Oh ok. Sure, we'll let it go. (at this point I'm dying as there is very obviously a very dead iguana with no eyes hanging out near the beer coolers).
Iguanas aside now, we continued with circle, properly awarding or accusing deserving wankers. Some amazing beer boarding took place with the FRB and FBI, thanks were given to the hares for their sh!tty trail, and most importantly, we thanked Jolly Roger H3 for invading our island.
But we weren't done yet, oh no. Now the pub crawl began! Our first stop was the
Cork and Stogie
, where the loving owner Dave Sr. made us a pretty sign and gifted us with the best craft beer $3 can buy. I'd have been happy just drinking there all day, but the demands of you wankers kept us moving. On to the
Salty Angler
, where hash friend and owner Amy had $3 beers, ciders, and margaritas (which started doom for certain hashers, ahem Menage a Neuf). Then it was
Bourbon Stree
t where in true hasher style, everyone got naked and played volleyball in the pool and some people acquired a new husband or two.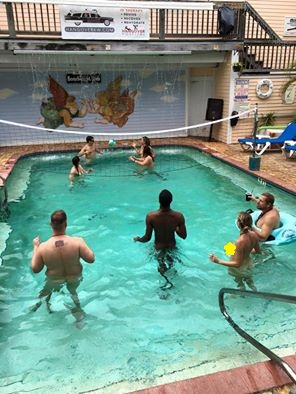 At this point, we had three more bars to hit, but our happily wasted Jolly Roger brethren had to head back to their ship. So Key West H3 and a couple of the land lubber Jolly Rogers bravely continued the pub crawl down Duval. At some point, Just Chris paid for us all to be fed to continue our carousing. I can't tell you on a public website much more of what happened, other than it ended mightily and in the nude at the Garden of Eden. And there was much naked swordfighting.

But I had a blast this day, and hope everyone else did too!!

Love,

DTF