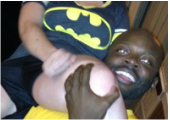 On the last Saturday of the month of September (which is the 29th for those of you more simple minded folk) we donned our best
fake muscle
, billowing capes and random
face paint
at the White Street pier for the Superhero Hash.
The brave and foolish
Tiny Dick Connoisseur
and
Just Adriana
decided it would be good for them to hare. Let just say things didn't start off too super for our Superhero duo. First off, where was the on start beer? Second off, where was all the on start beer!?!?! Shame hares, shame. Many a spandex clad superheros were in attendance. We had a hand full of Batmen (men and women alike), a pair of Quailmen and a Ghostbuster. I know what you're thinking, Ghostbusters don't have super powers. Turns out this Ghostbusters super power was being able to shed his jumpsuit and magically turn into a much paler, and much less endowed, Borat. Oh how the women didn't swoon at
Ribbed for His Pleasure
and his not so super Super Power.
And as we always do, we jogged. Trail took us on a ziggy zaggy path up towards
Shanna Key
.
It seems to be a habit for EVERY F@!KING hare to tease us with an awesome stop here.
Screw
you all!
The beer check was mercifully nearby though right next to the high school. I found this
be a poorly conceived beer check since there were no good nearby bushes for hasher to relieve
themselves in.
Then we jogged more, towards the heart of downtown. This part of trail was boring. I blinked
and there I was and the next beer check at
Pocket Park
. I liked this beer check though since there were many shadowy places that hash could cause trouble in.
And we did
. And it was great!
Again the next part of the trail was very unmemorable. I blame this on several things. A. NO
ON-START BEER! B. Lack of shiggy. On a side note,
Pullin' Out
, we need
KWH3 shiggy socks
! So, where was I? Oh yes, yada yada yada trail ends at the parking lot next to
Finnegan's
. Seriously hares! The parking garage was 500 feet away and a much better On-Home. So we
moved circle to the garage.
Once at the garage the hares pull out three coolers! Finally, the
golden nectar
of our
Beer Lord
! And as we all know, SHAME to the hares for not providing enough beer. We ran out in ten minutes. So much ice! Not enough beer.
Guidelines were demonstrated
, virgins were introduced. Erections were then held. During Erections,
Salty Green Rim Job
was expunged and
Pullin' Out
drunkenly grunted something incomprehensible and got the job has our new
Haberdasher
! And I, the esteemed
Snoop Dingleberry
was voted in as your
Hash Scribe
!
We
swung low
, drank many more a ....wait, oh yeah that's right we couldn't drink more beer
since the hares didn't get enough. Wankers! The we all pissed off for I
sland Dog
as the On-On-On and hit the town for
dancing on bartops
while dressed as retarded superheroes, and
4" Spike
randomly started lifting people into the air.
Honor to the Hash. Honor to our awesome superheroness!
Snoop Dingle B.