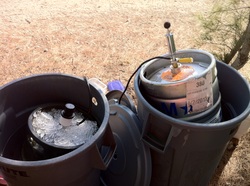 Well… I have finally sobered up from the
Tarpon Belly Key
campout and can now give all you wankers a proper Hash Trash for the event.
It all started with the
die-hards
arriving on Friday night, shuttling massive amounts of beer, tents, citronella candles, and
large breasted women
out to the campsite on
Tarpon Belly
.
Ms. Squirtz-a-lot
and
The Queen's Enema
joined us and set up their tents, but then decided the smaller crowd was not enough fun so they abandoned
Anal Sandwich
,
Marilyn ManHoe
,
Just Lori
,
Fartacus
,
Pullin' Out
,
Bloody Treasure Chest
, and
Ribbed for HIS Pleasure
on the island for the night with nothing to do but drink cans of
Yuengling
and bitch about the
Tyrant
's insistence that no kegs be tapped until the official festivities began on Saturday.
Those of us who remained on the island that first night learned that
Marilyn ManHoe
is the only
pyromaniac
of the bunch, and that
Anal Sandwich
cannot light a fire even when using a whole bottle of lighter fluid. For those of you wondering: A pallet will NOT turn into a raging inferno if you simply lay it on top of a citronella candle. Honor to
ManHoe
for spending many nights in tents with
little Boy Scouts
and learning how to burn shit.
To keep the swarms of mosquitoes at bay, we burned all of the campout's firewood that first night, so
Ribbed
,
ManHoe
and
Just Lori
made an Ice/Pallet run the next day and stole the load bearing pallets being utilized by a local trailer so we could burn them and keep the pack warm on Saturday night. It was terribly chilly, with temperatures dropping into the mid 90's at night.
When the official event began on Saturday morning, we were graced with the return of
Ginger Dropping Timber
and her two sidebouys:
Salty Green Rim Job
and
Pleasure Me Orally
. This trio hunkered in their tent for most of the campout, and although the windows were all closed,
giggles emanated from their campsite at all times…
and they all three would descend on the main ring of campers if there was even a hint of food or rustle of a potato chip bag.
On Saturday, the
Tyrant
helped everyone get settled and then briefed them on the high threat of
Sea-Bears
in the area. Sometimes mistaken as docile innocuous creatures, these vicious man-eaters are
large grey animals
that routinely float in channels to create a hazard to navigation and attempt to destroy the props of small boats. They are related to
Hippo's
and
Rhinoceros
, as well as the
Polar Bear
. They have large dangerous talons which they use to swipe with when they are on land, and they sneak ashore in the middle of the night and prowl for people to murder.
Infantile Sea-Bears
resemble small rodents and are known to eat holes in tents and consume bagels while sitting on
Fartacus'
chest and mocking his snoring.
For the main event,
Fartacus
was too schnockered to set trail, so he originally was led off by
Anal Sandwich
who then had to save him after he fell asleep and collapsed off a concrete piling into the canal. So, we drug him ashore and left him mumbling in some private conversation while we sent
Anal
and Just Joe off as hares. The
tyrant
sent the pack hot on their heels after only a 20 minute head start, which apparently was only adequate enough for them to set a long water filled swim trail that had us slogging across the bay, and then running up the highest peak on the island (a 10 foot gravel hill) before winding up back at the campsite where we finished our exhausting 4 minute run. Typical of a hash-man to promise endurance and then only give us 4 minutes of fun.
Anal
, Joe, and
Fartacus
: the "One-Pump Chumps" of the haring world.
From there we gathered for religion and had a roaring good time around the fire.
Marilyn ManHoe
presented new Hash Relics in the form of bondage chains for unruly hounds… Just Joe gave himself third degree burns when he attempted to do a naked fire jump while spraying himself with flammable mosquito repellant…. And we named
Just Lori
! Forevermore shall she be known as the harriette named
Tiny Dick Connoisseur
! There were other accusations and shenanigans, but if you weren't there you don't deserve to know about them, and then we Swung Low and proceeded to drain the kegs.
After Religion, the pack ate a feast of Hawaiian-style pork and meats that had been cooking all day in a pit under the fire (good thing
Fartacus
set that up before he passed out). After the meal, the pack went swimming and successfully defended ourselves against a vicious
Sea-Bear
attack after sunset!! Heroes in the defense of the island were
Miss Squirtz-a-lot
,
Tiny Dick Connoisseur
,
Ribbed
, and
Banana Butt-Plug
who learned that the terrible creatures are deathly afraid of
nudity
.
By Sunday morning, the tallies of consumed goods stood at: 1 keg of
Magic Hat #9
, 1 keg of shitty ass sweet beer, 4 cases of
Yuengling
, 30 bottles of
La Fin Du Monde
, several rodent gnawed bagels, 4 bottles of champagne, 27 wooden pallets, over 600 pounds of ice, 14 gallons of water, 9 condoms, 12 bottles of sunscreen, 8 bottles of bug repellent, and 4 citronella candles.
Overall, it was a wonderful damn time. And to those of you that didn't make it:
Fuck you, you Fucking Fucks
and thanks for nothing.
This is your new blog post. Click here and start typing, or drag in elements from the top bar.