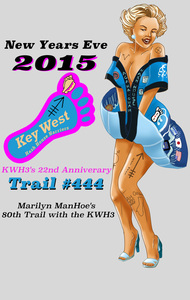 New Years Eve Pub Crawl
31 December 2014
The following Hash Trash was penned by the highly esteemed scribe: Donkey Fluffer
The Catman on Mallory Square forced his ridiculous laugh on the crowd. I glanced down at my Mojito and thought "This is the last sober moment of 2014". Really a lie, because I'd already had Bloody Mary's and several beers, but whatever. I attempted to watch the sunset, but mostly watched the crowd fight over places to watch the sunset. I was wearing full hash attire and spent a lot of time trying to adequately explain this hashing affliction without having long drawn out conversations. "We're a drinking club with a running problem" only seems to make the muggle ask more questions. It doesn't help that they all want to read the patches on your happi, some of which are not child-friendly. Most of the time I just want to say "piss off" especially if I'm trying to get my drink on.
Anyway, I responded to a last minute request from Marilyn Manhoe to get some ice and get the start beer cooled down, so I left my just ordered Ropa Vieja and snagged some help from Osama Bin Hashing, Fidel Assbro and It Puts the Tanning Lotion in the Basket and we made it happen. Manhoe arrived shortly thereafter and I could empathize with the frazzled look on his face, knowing what it takes to organize something like this and be running short on time. He gave me a big brohug and all was right with the world.
Kramalot signed everybody in, Reverse Rumspringa had a full selection of haberdashery, and GI Swallow handed out the outstanding hash goodies. We got a backpack with a ice cooler compartment, personalized credit card quality toe tags, a t-shirt with Manhoe art, and condoms.
The Tyrant cranked his bullhorn to eleven (sneaky Spinal Tap reference) and cracked the whip on the bawdy crowd of degenerates. A few announcements were made and off went our hare, that masturbating multi-tasking son of a bitch called Manhoe.
I watched Rumpley Foreskin offer beer bongs from his mannequin contraption with a strategically placed, phallic shaped, golden nectar dispenser. Ingeniously he had added backpack straps and he rucked that headless perv all over the Cayo Hueso.
Dog Fucker pointed at the sky and loudly proclaimed "boob check!" A perfect ring had formed around the moon and it certainly looked like everybody's 2nd favorite hash mark (BN still ranks higher). We took off on TT and found ourselves at The Smokin Tuna. They lined up the beers on the railing outside and we partied in the street, singing inappropriate tunes and reuniting with old hash friends. At precisely fifteen minutes it was On-On and I found myself on my knees at Tropic Cinema, taking a very large, very strong, jello shot from a huge syringe, graciously fed to me by the lovely GI Swallow. Everybody then violated the landmark Marilyn Monroe figure. Wankers were getting a little drunk by now and inhibitions, minimal to begin with, reached a new low.
Walking down Duval Street singing the days of the week (Is everybody happy? You bet your ass we are!) made the muggles stare but it was cool that a lot of them joined in.
Bobby's Monkey Bar handed us some strong orange rum punch and we again gathered in the street, avoiding the muggle crowd and keeping ourselves hash pure.
After the walk from hell where I dripped beer-scented sweat because of the 80° temp, we reached The Southernmost Inn and they gave us some of the best Sangrias I'd ever poured down my gullet, with umbrellas and cherry's even. As I'm sipping my delightful mixture, some wanker, I can't recall who, runs up and tells me "Donkey, Osama is in the pool naked!" as if I'm his babysitter and I should do something to stop him. Instead, my eyes lit up and I ran outside to get in on the action. My kilt came off and I hollered "now I have somewhere to pee" and I jumped in. We were up to eight or so nudists when we were ordered out of the pool by the damn tyrant. He had his reasons, but at least I got to cool off...and relieve my bladder. We moved on.
We wandered by Truman Annex and did a beer check in a parking lot just outside the Navy base. An "On- In" teased us. By this point the pack of a hundred or so were feeling pretty good and there was every imaginable verse of "Cindi Bear" floating from various points in the 1/4 mile long parade.
Pickle Maker wrapped himself in the "Happy Fucking New Year" banner that Manhoe had secured from somewhere, and walked down the street to an incredibly perfect location to greet 2015. The U.S. Coast Guard Cutter Ingham, moored at Fort Zachary Taylor. Onboard the floating museum, we had party favors, hot catered food, and keg beer. Manhoe cracked the whip again and we started circle. First up were the numerous virgins and most took the debaucherous initiation very well. Accusations were next, and I don't think many escaped the Tyrants wrath. We drank from his filthy bedpan, we flashed the body parts he demanded we show, we counter-accused and he drank from the pan of piss. A couple highlights was when Whorenament found herself completely disrobed for some obscure violation and Cockodile Hunter attempting to drink from the Pan of Shame while wearing the Sleeve of Justice. Her incompetence with the elbow-restricting tube caused her to douse her pretty dress and face with the sacred nectar. To add insult to injury she promptly dropped the pan on top of her head, Much to the enjoyment of the drunken sots watching.
We paused to grab champagne, in real glass On-On champagne glasses no less, then we watched the drop of lights that dangled from the mast as we counted the final seconds down to the New Year. There was a few frenzied minutes of kissing and swilling the bubbly but we were shortly called to order again.
Next came the toppling of the Tyrant. Shiggy Shave-Her led a coup and Manhoe was ousted from his Dicktatorship. Shiggy promptly proclaimed "I fucking hate every one of you" and we sang Swing Low.
The majority of the pack traipsed to the Green Parrot for On-after, many swigging from the bottles of champagne that weren't consumed earlier.