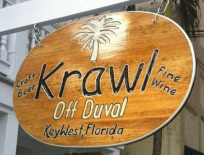 The
Three Kings Hash
started at the
Krawl off Duval
on Saturday, January 5th.
Great respect and thanks to the crew at
Krawl's
for their hospitality, their understanding of our
loud boisterous group
, and definitely for the beer specials!
The hares were
Gilded GILF
,
Just Rafy
, and J
ust Janae-nae
. The hares disappeared right at 4:30 into the alleys beside and behind
Krawl off Duval
while a healthy sized pack drank cold beer at the start. While the trail twisted and turned around
Duval
,
Whitehead
, and
Simonton
, we finally came upon an SN and SH marks, which although they were briefed at chalk talk, confused
Casper Gasper
. "I have no idea what those marks mean. I've run 2 1/2 years and never seen marks like that!"
In a black plastic trash bag, the pack found delicious
cherry and strawberry Jello Shots
and four beers. After the pack collected all the hashers (
Casper Gasper
had made the
Tyrant
wait until her virgin arrived 10 minutes after trail started), we were off in search of another beer stop with some whichaways (marked in 2 directions), a couple of fakes into
Bahama Village
and back around, across and down
Duval
and then east while
Mu-Sick
got sidetracked at the finish line of the
Ragnar Relay R*ce
that just finished their relay run from
Miami
.
Thar She Blows
and
Marilyn ManHoe
spotted several of the
Miami
,
Wild Card
, and
Fort Lauderdale
hashers wearing their
r*cist Ragnar
shirts and invited them to join the hash. Unfortunately
Buttplug
,
Don't Ask, Don't Tell
,
Jamaica Me Horny,
and the others
declined to run the hash
since they had just run about 20 miles in the last 30 hours. However, he r*cist bastards DID decide to crash our on-home, drink our beer, and pester our
Tyrant
during the
religious ceremonies
.
Several hashers were perplexed by the True Trail marks at every check since only the hare can leave a true trail mark. Rumors were that a certain tall brunette harriette running with a pony tail who answered to the name of
Just Breonna
was putting those true trail marks even though she was not the hare. The trail continued on east to
Gilded GILF
's house for another beer stop, where
Marilyn ManHoe
and
Bloody Treasure Chest
caught each other on their technological devices.
Departing over a locked wooden gate to another whichaway in the street, the pack headed northeast around the
cemetery
, east and onto Palm Ave at
Peary Housing
, which added some confusion since the
New Year's Trail
marks were crossed out but went the same way down Palm Ave. The trail finally separated from the
New Year's trail
and went straight down Palm Ave and into the
Section 8 housing area
for another check, only to return back out onto Palm, right behind
ACE Hardware
, a fake pass at
Finnegan's
and right toward the Coast Guard Gate, knowing that it is a dead end. Then, we saw the Beer Near sign with the direction out after the beer stop. Luckily, the entire pack did run into the
school bus parking lot
and to the Yeungling on ice, with a few Jello shots left.
Mu-Sick
kept blowing his whistle so that any late hashers can still make it to the Beer Stop and luckily
Thar She Blows
and a Hash Virgin showed up a good ten minutes after the last of the pack had arrived.
After our Yeungling Beer stop it was back around the old seaport next to
Dante's
, with another whichaway (marked in two directions) before running along
Turtle Kraals
, departing the waterfront at
Sunset Watersports
. We then proceeded south back to the start for the on home at
Krawl Off Duval
, where magically the
Wild Card, Miami, and Fort Lauderdale hashers
appeared, while the seven large pizzas disappeared.
The
Tyrant
ran the
circle
with a large white cooler stocked with
Key West Belgian Wheat Beer
, which some accepted and some disliked immensely (but were afraid to complain since the beer was free). After the
Circle Up Song
, Down Downs were held for the hares, with our visitors,
Lofty
(which was sporting a hash cap given to him at the 30th anniversary of him running the hash since 1975) and
Yo Adrian
from
South of Perth Hash, Australia
, singing their home hash anthem.
R*cers
did a down-down for r*cing all the way from Miami, wearing r*cing T-Shirts. Several Virgins were introduced to the hash and did their down downs, including Virgin Bob from
Fort Lauderdale
who had to come all the way to
Key West
to be introduced to
the hash
, rather than running with such riff-raff as the
Fort Lauderdale or Wild Card
Hash.
StrongSauce69
regailed us with glory stories from the great
Agaña H3
of
Guam
, and sang us their
Holy Hash Song.

Several harriettes exercised their option by utilizing the
"Key West Hash Guidelines"
and showing their tits while having a hasher do their down down for them. Allowing the opportunity for
Mu-Sick
to perform for
SLUT
in the most enjoyable down down he had ever done in his 33 years of hashing. We celebrated
Casper Gasper
's 25th birthday with a
Spanking Tunnel
, and
Lofty
proclaimed that it was a thoroughly enjoyable hash especially due to the
magnificent boobies
. After the beer disappeared, the pack went to several different on-on restaurants. Thanks to the hares for a fun
Three Kings hash
. It was enjoyed by all. If you weren't there, you missed out.