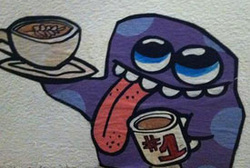 One would think that given the choice between dressing up for Navy Balls or going hashing in a shirt that you will never want to wear again would be an easy choice. However, last Saturday several of our hashers were unable to get their priorities straight and were absent for a booze, blobs, and boobs filled hash in the ghetto. Our Tyrant, Pleasure Me Orally, Salty Green Rim Job, and Farticus proved that they prefer Navy Balls over hashing. Truly, a shame.

The hash started off well. Unlike last week, Banana Butt Plug and fellow hare Just Clare were smart enough to bring beer to the on-start! As we downed our golden nectar, Banana Butt Plug proceeded to completely confuse our virgins at the chalk talk, requiring Nursing an STD and Miss Squirts A lot to clean up after his mess. The hares, bravely requesting only a 7 minute head start, ran off leaving us to finish our vessels.

We slowly jogged around old town until we spotted our first Beer Near check in a hotel courtyard. Due to the lack of hiding places, and because they wanted us to suffer, our hares dumped the beer into the hotel fountain. For those who don't know, which is… nobody. Water in Key West is pretty warm. Our once ice-cold beverages transformed into piss-warm nectar, and yet we drank. At this stop we also found a couple of permanent markers. Since it was a graffiti hash, and most of us had white shirts we didn't mind getting defiled, and since we are grown adults, almost everyone had a penis on their shirt within minutes.

Leaving our nice hotel environment, we ventured deep into the ghetto of Bahama Village. Not far into this section of the trail, many of us thought "Trailer trash no shoot us" should have been included during the blessing of the hares. An angry black woman verbally harassed the Queens Enema, and multiple vicious dogs attempted to eat our virgins. Somehow surviving this running of the gauntlet, we arrived at a house complete with a beer check outside. True to the theme, more markers came out, more penises were drawn, and the hash moved on.

We finally left the ghetto, the hash running at a quicker pace than usual for some reason, until we no longer saw angry locals undoubtedly ready to defend their shacks with most likely stolen firearms. On the way to the next beer stop, we scarred multiple children for life as we ran through a kid's park, showing off our penis-covered shirts. The final stop was in another park, this one absent of kids with the exception of ourselves. Even more penises were drawn, suggestive language was written, swings were almost broken, and the sweet nectar was downed.

The hash ended near the broken Coast Guard cutter, and a circle was formed. The hares were punished, virgins told crappy jokes, hairy butts were seen, and both Just Claire and Tiny Dick Connoisseur bared their breasts multiple times for no reason. The hash ended after Ribbed for His Pleasure made us cry uncle with his multiple additions to the S&M man hymn, and we moved on to consume plenty of burgers and wings.



Don't forget to buy your red dresses and tutus! On-On!

-Nursing an STD.