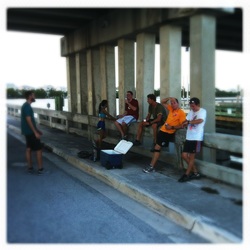 Well, Holy Hash Gods!! It was hotter than Hades last night when the typical pack gathered under the bridge at
Garrison Bight Marina
.
Nacho Tits
made a majestic reappearance, bringing with him a transferring Hasher from Maine. Of course,
Nacho Tits
didn't bring anything to drink to this BYOB event, and told his "new guy" that he didn't have to bring any beer either.... this is why we haven't missed him.
The
Tyrant
consulted with
the great and honorable Gispert
, and
Anal Sandwich
was chosen as the hare for the event. This was probably a poor decision, as that wanker is DAMN fast, and sprinted off with a smoke-trail behind him.
The hounds followed after a five minute lead, and were led on a roundabout trip through
mid-town
... coming tantalizingly close to several bars. We passed in front of
Fausto's
again (where I was sure we would have a repeat of the last pick-up hash) but did no Beer Check was marked. We sprinted down the street, following Checks and improperly utilized Whichy-Ways (there is no such thing as a three-way Whichy-Way. That's a check,
dumbass
) until we got within spitting distance of
Shanna Key
... but again, no Beer. The hare didn't even drop the emergency beer-bag he was carrying to quench our thirsts!!!
With a final sprint up to 7th street on Seidenberg... the
Tyrant
was sure we were going for a beer stop at the
Hash House he lives in on Fogarty
. But suddenly,
Anal
decided to abandon that path as well. So no beer.
Passing
Checkers
on the run back down Roosevelt,
Just Kiel
and
Marilyn ManHoe
got thirsty and pulled off at the
Shell station
to buy the pack some tallboys. The run finished where it began, and a great and rowdy religion was held under the bridge. We welcomed our virgin Just Aileen, properly introduced our transferring brother
Just Scott
, and began the tradition of saying farewell to honored hashers with the ceremony of "drinking-from-their-shoe-while-telling-insulting-stories-about-them." I learned many things about
Nacho Tits
, and he will never meet my
sister
. The
Tyrant
then tried to hurl the shoe/vessel across the marina, and
Nacho Tits
had to avoid jet-skis and boaters as he doggie-paddled out to retrieve it, nearly drowning on three occasions. Apparently they no longer teach Coasties to swim. It was even funnier when
the Queen's Enema
tried to out-throw
ManHoe
, and ended up winging
Nacho's
other shoe directly into the briny deep.
On-After was held on the patio-deck of
Thai Island
, where much curry was consumed by all. Honor to Sergii for letting us into the restaurant reaking of sweat and stale beer. Honor to those who chose to ran in 110 degree weather. Honor to the
Key West Hash
, and all of her bastards.