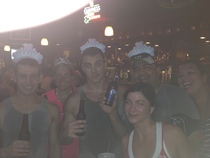 Princesses in Irish Kevins
So there I was (fantastic, incredible, holy hellfire, shit, tell us about motherfucker, Hey) sweating my balls off and finding it hard to breathe due to the elevation of the parking garage.
The motley collection of hashers slowly trickled in, some sort of accounting of those present was taken, monies collected and refreshing nectar started to flow. I will blame my account of this hash on the flow of nectar and my perception or rather imperceptions for the obvious. These thing make this a completely accurate, true, even legally binding account of the first running of the
KWH3
under Haj
Marilyn ManHoe
. The hares consisted of
COCKBREAKER
,
Just Lori
, and
Anal Sandwich
for this evening. We had every assurance this trail would be much different than the previous debacle that was the previous regular hash.
Our newly anointed Tyrant blessed our wanking hares and they were off. After a full 47 minute wait, the pack was in pursuit. They were in an all out sprint, and by all out sprint I mean a leisurely walk to the first mark which happened to be a whichy-way. The pack quickly realized this was going to be as well laid as the last trail. Yay for us. After hunting for
marks and the entire group gathering at each intersection and waiting for one or two hounds to run out the bad trails, we eventually made it down the waterfront and along the quay wall. At this point the pack decided to divide and conquer. Half of the pack stopped at the first beer stop and partook of the nectar whilst the rest of the pack went in search of air conditioning and additional nectar. AC and hydration would be found at Irish Kevins.
After quenching thirsts and photo ops with tourists the pack regrouped and were off again. Trail lead off again over to Truman annex, Local "helpers" told our virgins the "guys setting trail" paid them to not tell us where trail went, but they would tell if our virgins paid them more. I believe there were sexual favors exchanged at this point and still no info.
After a hosing off of some of the pack by the guy washing his car, we were off once more.
Fartacus
,
CheMo
, and
Shut the Fuck Up
decided to Zen through Bahama village, we ended up in the middle of Pride Fest and found more of the life sustaining nectar at 801 Duval. After several phone numbers were exchanged by multiple hashers and the staff of 801, we were off. Zenning again,
Fartacus
stumbled on a T check and was rewarded with a lovely pink ribbon.
After another five miles of wandering the streets of KW all somehow stumbled upon the finish which turned out to be the beginning of the run as well. Reeeeligion!!!
CheMo
was e(r)ected as Hash Trash,
Just Sonny
passed the FRB chain to
STFU
just before being chosen as the new OnSec, and this is where it all gets a little fuzzy for me, Accusations were made, too much nectar consumed, we honored and welcomed
Ribbed For His Pleasure
who transferred in from Guam, We swung low and we all went to Finnegan's Wake for the on-after.
ON ON,
CheMo