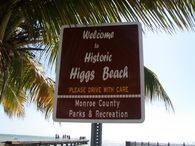 Wankers and Scoundrels, the following is the true account of June 18th, 2012:
Ten or so various hounds arrived at the pavilion behind Salute's at Higgs Beach around 6pm, with "Shut the Fuck Up" and his unmentionable ("Weapons of Mass Destruction") sauntering in thirty minutes later.
With no virgins, we had a healthy seasoned pack, so the
Tyrant
glazed over the basic rules and trail markings for a Pick-Up Hash. This would prove to be a grave mistake.
By decree, the Hash Gods chose "Shut the Fuck Up" as the initial Hare for the event, probably due to his tardiness. With a seven minute head start, off he ran carrying beer and chalk, running down the road and failing to give the hounds a nice beach run near the surf. This was his first failure.
The pack finished consuming Nectar and proceeded to chase the hare, hoping for a nice easy run and several turn-overs of Hare responsibility. It was discovered very quickly that STFU had chosen to mark in blue chalk, and only lay one mark every six blocks… with that mark being a hard-to-see hidden Check. The pack was lost within one minute of trail commencement. NO MORE BLUE CHALK FOR HARES!
With
Fartacus
taking off in a random direction, and Banana ButtPlug following him like a horny dog,
Nursing an STD
sprinted ahead to see what he could find. The Tyrant,
Marilyn ManHoe
, carried the middle flanks and organized a sector-search pattern with the remaining hounds in the middle, while
Just Lori
and
Just Dustin
walked slowly (to cover our rear and prevent us being encircled and cut off from supply lines).
When no trail was found, the pack figured "we must be heading to Shanna Key!" and we were woefully depressed when we ran all the way there and discovered there was not a BeerCheck to be seen. With this, the hounds backtracked and spread out in a V-for-Victory formation and found a hidden TrueTrail mark on the back of a lightpole 12 feet off the ground. Once again feeling sporty, off they ran only to be lost again when two different hares were standing on two different checks at two different intersections… and nobody knew which was further into trail and which was leading to the other.
While
ManHoe
ran on a 6 block sojourn down Seminary Street to the West of the Weather Research Center,
Fartacus
found a blue True Trail mark hidden on a curb immediately next to a check. He proceeded to abandon his Tyrant and led the pack all the way down White Street to the intersection with Truman, and when no marks were found by this point…
Tyrant ManHoe
found a mysterious BeerCheck marking in the same color chalk he was holding outside of
Fausto's Food Palace
, where the pack procured a bunch of StrongBow's to rehydrate themselves as they began the backtrack to Higgs Beach, giving up all hope on running trail.
As the pack neared the abode of "
Pleasure Me Orally
" loud Hash-worthy singing was heard emanating from her shower window (don't tell anyone, but she lives at 1410 White Street), so the pack pounded on her door until she agreed to join us for the Hash and off we sprinted for the On-Home/On-Start site.
At the beach, the Hare was found… he claims to have run
this route
. and Religion was held as the sun set over the beach. We welcomed Banana ButtPlug as a transfer from D.C. (although it took him three years to find out Key West had a Hash), we Swung Low, and the pack proceeded to
Shanna Key
(where we wanted to go all along) for wings, Guinness, and debaucherous good times.