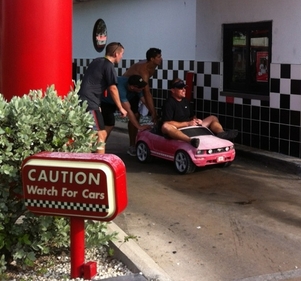 Fartacus! Chariot-riding on trail!
With such a fantastic run on Saturday,
Fartacus
decided to host a Memorial Day Pick-Up Hash that started behind Stick & Stein at 4pm.
We had a great showing of hounds, including two virgins (Honor to Just Agnes, Just Spencer, and to Ms. Squirts-a-lot for bringing them!)
Salty Green Rim-Job was chosen as our first hare, and off she went while the pack consumed several dozen beers trying to ward off the heat. SGRJ laid a wonderful trail, meandering through the neighborhoods behind K-mart before ending her portion with a beer check on the Staples Avenue Bike-Path bridge.
From there, Nacho Tits took over and led the group on a sprinting run past Government road and around the High School, before bringing us in to that wonderful Hash-friendly establishment: Shanna Key. Where we were apparently mistaken for Football de Europeano fans by some drunkard who tried to sit with us and kept yelling "MANCHESTER!!!!"
Nacho Tits then brought the pack to his house, where we helped him finish off a bottle of Red Label before his upcoming move
. The chalk-bag was then shifted to
Fucking Low Prices
, who took us through some mild back-alley shiggy before getting snared by Just Sonny! While waiting for Sonny's timer to expire, the hounds stumbled upon a WONDERFUL piece of trail treasure (really, who throw out an electric car, with gas prices this high?) and we took it along the rest of trail with us.
Fartacus
even got pushed through the Checker's drive-thru.... but they couldn't understand his spanglish so we did not get any yummy treats.
Trail wound it's way back to the delivery area behind Stick & Stein, and Circle was held at
ManHoe's Hashy Crashy Space
... where the pack could cool down in the pool and order pizza while the virgin Just Spencer made an ass of himself by physically assaulting the Tyrant. Fun was had, beer was consumed, Spencer was sent home, and the pack remained until midnight drinking in the pool.
If you weren't there, you fucking missed out.